Li seranserê Dewletên Yekbûyî, peykerên serokên Konfederasyon û kesayetiyên din ên dîrokî yên ku bi koletî û kuştina xwecihên Amerîkî ve têne girêdan, protestoyên têkildarî mirina George Floyd, zilamekî reş, li polîs binçavkirin di 25ê Gulanê de li Minneapolis.
Li New York, Muzeya Dîroka Xwezayî ya Amerîkî roja Yekşemê ragihand ku ew ê peykerê Theodore Roosevelt, serokê 26. yê Amerîkî, ji deriyê deriyê wê yê sereke derxîne. Peyker Roosevelt li ser hespê nîşan dide, ku ji hêla Afrîkayiyek Amerîkî û Amerîkayek Niştimanî ve li pê ye. Muzeyê hêj ne gotiye ku ew ê bi peykerê çi bike.
Li Houston, du peykerên Konfederalîzmê yên li parkên giştî hatine rakirin. Yek ji wan peykeran, Ruhê Konfederasyonê, peykerekî tûncîn ê ku melekek bi şûr û şaxek xurmê temsîl dike, ji 100 salan zêdetir li Parka Sam Houston sekinî bû û niha di embarek bajêr de ye.
Bajar rêz kirin ku peyker li Muzeya Houston a Çanda Afrîkaya Amerîkî were veguheztin.
Gava ku hin bang dikin û tevdigerin ku ji peykerên Konfederal xilas bibin, hin jî wan diparêzin.
Li Richmond, Virginia, peykerê generalê konfederal Robert E.Lee bûye navendek pevçûnê. Xwepêşanderan xwestin peyker were daxistin, û Waliyê Virginia Ralph Northam fermanek derxist.
Lêbelê, ferman hate asteng kirin ku komek xwedan milkan li dadgeha federal doz vekir û got ku rakirina peyker dê nirxên milkên derdorê kêm bike.
Dadrêsê Federal Bradley Cavedo hefteya borî biryar da ku peyker milkê mirovan e ku li ser bingeha karûbarê avahiyê ji 1890 ve hatî damezirandin. Wî biryarnameyek derxist ku dewlet ji bo hilweşandina wê berî biryara dawî nayê derxistin.
Lêkolînek 2016-an ji hêla Navenda Hiqûqê ya Belengaziya Başûr, rêxistinek parêzeriya hiqûqî ya nehfdar, diyar kir ku li seranserê Dewletên Yekbûyî di forma peyker, al, plakayên dewletê, navên dibistanan, kolanan, parkan, betlaneyan de ji 1500î zêdetir sembolên konfederal ên giştî hene. û baregehên leşkerî, piranî li Başûr bicîh bûne.
Hejmara peyker û abîdeyên Konfederasyonê wê demê ji 700î zêdetir bû.
Dîtinên cihêreng
Komeleya Neteweyî ya Pêşveçûna Mirovên Rengîn, rêxistinek mafên sivîl, bi salan e ku ji bo rakirina sembolên Konfederalîzmê ji qadên giştî û hikûmî bang dike. Lêbelê, li ser awayê danûstendina bi berhemên dîrokî re dîtinên cûda hene.
"Ez li ser vê yekê perîşan im ji ber ku ev temsîla dîroka me ye, ev temsîla ya ku em difikirîn baş e," got Tony Brown, profesorek reşik ê civaknasiyê û rêvebirê Grûba Xebatê ya Nijadperestî û Tecrubeyên Nijadî li Zanîngeha Rice. "Di heman demê de, dibe ku di civakê de birînek me hebe, û em nafikirin ku ew êdî baş e û dixwazin wêneyan rakin."
Di dawiyê de, Brown got ku ew dixwaze bibîne ku peyker dimînin.
"Em dixwazin ku dîroka xwe spî bikin. Em meyl dikin ku dixwazin bibêjin nijadperestî ne ya kê ye, ne perçeyek avahiyên me ye, ne jî nirxên me ne. Ji ber vê yekê, gava ku hûn peykerekî hildidin, hûn dîroka me spî dikin, û ji wê gavê şûnda, ew dixwaze wan kesên ku peyker hildigirin hîs bike ku wan têra xwe kirine, "wî got.
Brown niqaş dike ku tişt neçin lê tiştên bi kontekstê têne xuyang kirin tam ev e ku hûn çawa mirovan fahm dikin ku nîjadperestiya çiqas kûr hatîye çandin,
"Pereyê miletê me ji pembû tê çêkirin, û hemî perê me bi merivên sipî re tê çap kirin, û hin ji wan xwedan kole. Gava ku hûn wî rengî delîl nîşan didin, hûn dibêjin, deqîqeyek bisekinin, em tiştên bi pembo ku bi xwediyên kole re hatine çap kirin didin. Wê hingê hûn dibînin ku nîjadperestî çiqas bi kûrahî ve hatiye veşartin, "wî got.
James Douglas, profesorê hiqûqê li Zanîngeha Texas Southern û serokê beşa Houston ya NAACP, dixwaze bibîne ku peykerên Konfederasyonê têne rakirin.
"Tu têkiliya wan bi Civilerê Navxweyî re tune. Peyker ji bo rêzgirtina leşkerên Konfederal û ji bo ku Afrîkayî Amerîkî bizanibin ku mirovên spî kontrol dikin hatine çêkirin. Ew ji bo ku hêza mirovên spî li ser Afrîkayanî-Amerîkî nîşan bidin hatin çêkirin, "wî got.
Biryarê xist
Douglas di heman demê de rexnegirê biryara Houston e ku peykerê Ruhê Konfederasyonê dibir muzeyê.
"Ev peyker rêzgirtina lehengên ku ji bo mafên dewletê şer kirine, di eslê xwe de yên ku şer kirine da ku Afrîqayî-Amerîkî wekî kole bimînin. Ma hûn difikirin ku kesek pêşniyar dike ku peykerekî têxin Muzeya Holocaustê ku digot ev peyker ji bo rêzgirtina kesên ku Cihû kuştin di jûreya gazê de hate çêkirin? " wî pirsî.
Peyker û bîranîn ji bo rêzgirtina mirovan in, Douglas got. Tenê danîna wan li mûzexaneyek Afrîkaya Amerîkî, rastiya ku peykeran wan bi rûmet dikin nagire.
Ji bo Brown, hiştina peykeran di cîh de rûmetê nade wî kesî.
"Bi ya min, ew saziyê dide diyar kirin. Gava ku peykerek we ya Konfederal hebe, ew li ser kesê tiştek nabêje. Ew li ser serokatiyê tiştek dibêje. Ew li ser her kesê ku li ser wê peykerê hev-îmze kirine tiştek dibêje, her kesê ku got ew peyker aîdî wir e. Ez nafikirim ku hûn dixwazin wê dîrokê ji holê rakin, "wî got.
Brown got ku divê mirov bêtir wext hesab bike ka ew çawa ye ku "me biryar da ku ew lehengên me ne ku dest pê bikin, hesab bikin ka me biryar da ku ew wêne baş in".
Tevgera Jiyana Reş Neçar Dike ku Amerika berê xwe ji peykerên Konfederal ji nû ve vekolîne.
HBO hefteya borî fîlima Gone with the Wind (Bone with the Wind) ya sala 1939-an bi demkî ji pêşniyarên xweyên serhêl derxist û plan dike ku fîlimê klasîk bi nîqaşkirina konteksta wê ya dîrokî ji nû ve derxe pêş. Fîlim ji ber pesnê koletiyê tê rexne kirin.
Di heman demê de, hefteya borî, Quaker Oats Co ragihand ku ew wêneyê jinek reş ji pakêta marûba xweya şirînek û pencereya 130 salî Aunt Jemima radike û navê xwe diguheze. Mars Inc bi rakirina wêneyê zilamekî reş ji pakêta marqeya xweya navdar a birincê Apê Ben şopand û got ku ew ê navê wê lê bikin.
Du marqeyên ji ber wêneyên xweyên qalib û rexnegirên rexnegirî rexne kirin dema ku başûrîyên spî "xaltî" an "ap" bikar dianîn ji ber ku wan ne dixwest mirovên reş wekî "Mr" an "Mrs." bi nav bikin.
Brown û Douglas tevgera HBO-yê tevgerek maqûl dibînin, lê ew tevgerên her du pargîdaniyên xwarinê cûda dibînin.
Nîşandana negatîf
Douglas got: "Ew tiştek rast e." "Me pargîdaniyên mezin kir ku xeletiya awayên wan fêr bibin. Ew (dibêjin), 'Em dixwazin biguhezin ji ber ku em pê dizanin ku ev pêşnumayek neyînî ya Afrîkayî Amerîkî ye.' Ew nuha wê nas dikin û ew ji wan xilas dibin. "
Ji bo Brown, tevger ji bo pargîdaniyan tenê rêyek din e ku bêtir hilber bifroşin.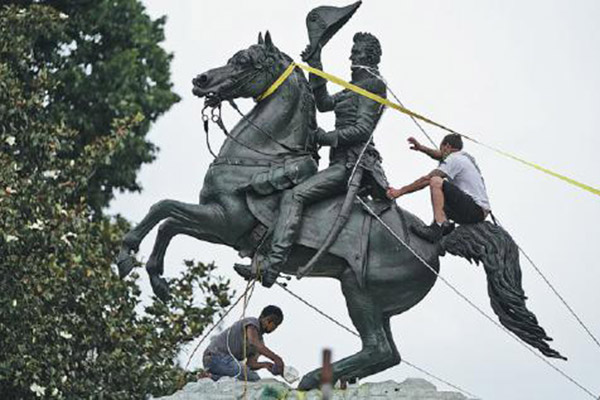 Xwepêşander hewl didin ku peykerê Andrew Jackson, serokê berê yê Amerîkî, li Parka Lafayette li ber Qesra Spî bavêjin dema protestoyên newekheviya nijadî li Washington, DC, Duşemê. JOSHUA ROBERTS / REUTERS
---
Dema şandinê: Tîrmeh-25-2020